sp16 Kickball- Indoor- Thursday - Baruch College - (Murray Hill) Kickball · Co-Ed Social
Accepting Small Group/Team Players Only
MonTueWed
Thu
FriSatSun
between 6:30pm and 9:30pm
Kickball Win 2 Points/ Flip Cup Win 1 Point
Small Group/Team Fees

Early Bird

85.0

per player + 3.0 Processing Fee

Regular

95.0

per player + 3.0 Processing Fee

Late

115.0

per player + 3.0 Processing Fee

Additional Team Fee

5.0 (payable by captain)
Free Agent Fees

Early Bird

85.0

+ 3.0 Processing Fee

Regular

95.0

+ 3.0 Processing Fee

Late

115.0

+ 3.0 Processing Fee
Overview
Our League will play on Thursday nights and will run for 8 weeks including the playoffs. Game times will start and be played between 7:15 p.m. and 10:30 p.m. The Entire Team or Group must be registered by April 5th (11:59pm)
Basics
1 BOGO pitcher coupon per team per week
Drink specials each week at the bar
7 Inning Games
Referee Fee included
Free Beer Parties Included
Flip Cup Playoffs
Kickball Playoffs (everyone makes it)
Kickball Win - 2 Points
Flip Cup Win - 1 Point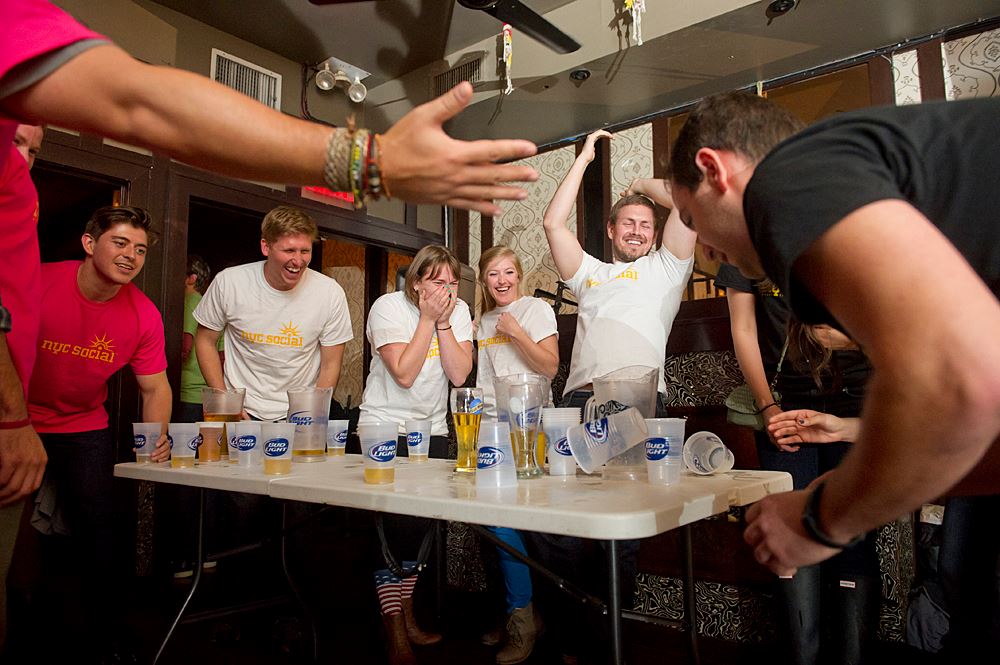 Last Day to Register-April 5th at 11:59 p.m.
Season Schedule

6 Weeks + Playoffs (which everyone makes)
Week 1 - April 21st - Opening Night & T-Shirts Distributed
Week 2
Week 3
Week 4 - SPIRIT WEEK!
Week 5
Week 6
Week 7 - Playoffs
Week 8 - Championships
League Format
1 Game of 7 innings each week - 2 points in standings
1 Flip Cup match per week (best of 7) - 1 point in standings
Teams must have at least 15 players on it
Minimum of 3 females in the field at all times
Refs, Shirts & Equipment included
Registration, Merging & Schedule
All players must be paid and registered by the NYC Social registration deadline on April 5th at 11:59 p.m. to be able to play in the season. Our leagues fill out quickly and team spots are limited so make sure you register early and reserve your spot before the league sells out. ** Rosters will be finalized on the day after registration closes and the schedule will be available online **
Three Ways to Join
Register as a Team (15-25 players): One person will create a team and register with the "Team/Small Group" option. The captain will have the option to either pay for the entire team or have each player pay individually. The remaining players will register for and join the team that the captain established. The captain will be responsible for setting the group name, number of players on the team and picking a team shirt color. If a team signs up and does not reach the full number of players we will add and merge players to form a full team. ** Captain can pay for entire team or have each person pay indivudally **
Register as a Small Group (2- 14 players): One person will create a team and register with the "Team/Small Group" option (don't worry it's just labeled the same thing). That person will then set the expected number of players they are planning on having join them in their group. Once the group has been created the remaining group members will join the group as team players. When registration closes NYC Social will merge small groups and free agents together to form a full team.Need further help signing up as a small group? Check out our step by step instructions.
Register as a Free Agent (Solo Player): Want to play but don't have anyone else willing to join? That's no problem, you are going to have a great time. Register as a free agent and NYC Social will place you with a small group and/or other free agents to form a full team after the registration closes.
If you sign up for a NYC Social League and as long as the league happens, we
guarantee
you will be placed on a team
Contact Us
Have questions about the league still check out our
Frequently Asked Questions
page or email us at
info@nycsocial.com